PAPIER COLLéS
The works presented in the current section are papiers collés. They are created by Ellen G. as unique art pieces by using the cubist technique of paper pieces juxtaposition, combined with painting insertions. 
All the works published in the GALLERY are small and medium-sized papier collés. 
All the works that are not part of private or public collections are available for sale, moreover all the works are available for sale as Fine Art print on canvas, aluminum or forex of any size contacting the artist. 
CERAMICS
Ellen G. models her clay sculptures starting off with the idea of the object – vase, pitcher, box – and then, using her own imagination, she transforms the characteristics of it. After the first baking, the terracotta work is colored with engobe or with special polychrome enamels, resulting from research and experimentation. Sometimes she likes to combine ceramics with other techniques and materials, such as paper.
All the works that are not part of private or public collections are available for sale.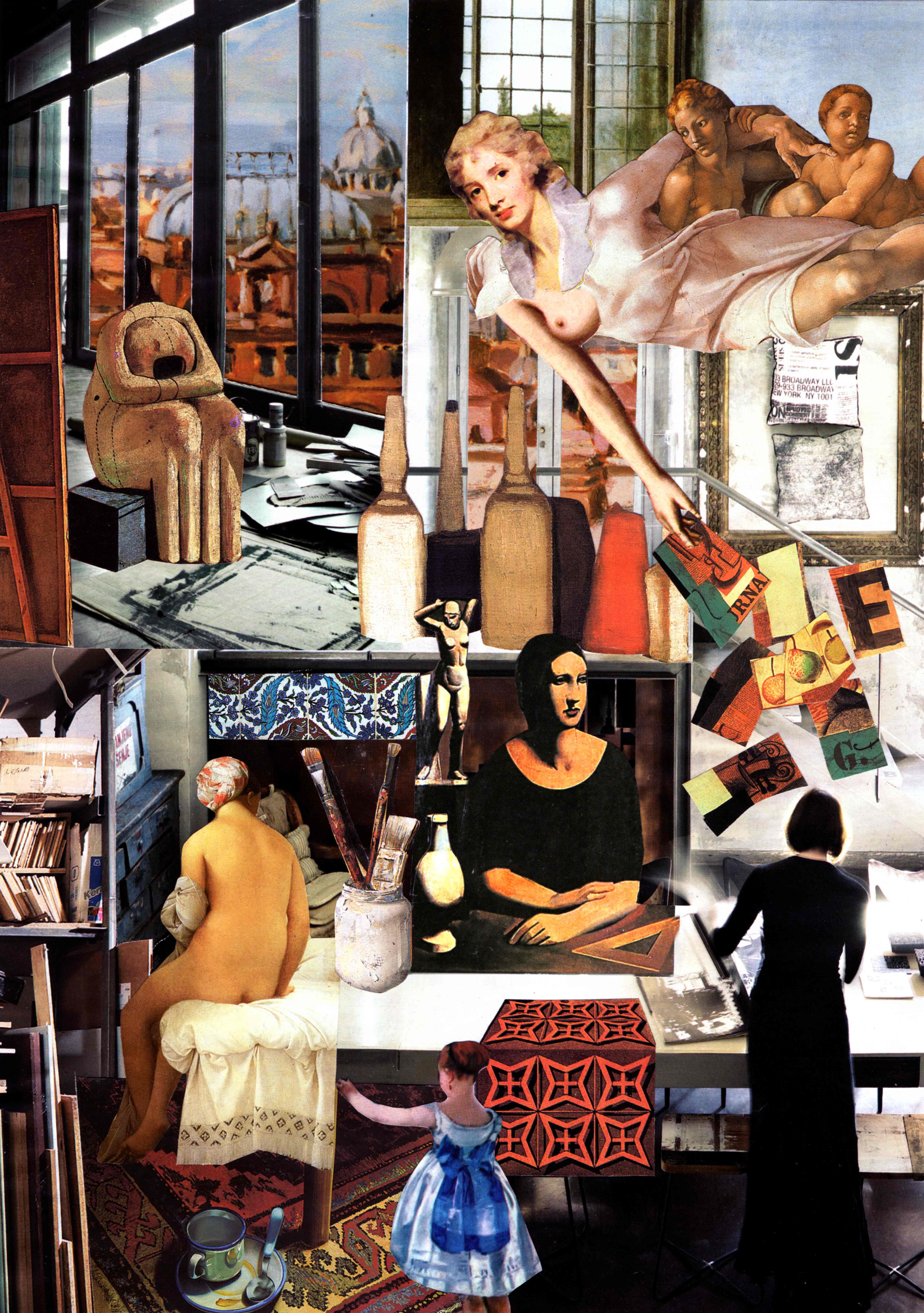 PapiEr collés
Tutte le opere di questa sezione sono papier collès eseguiti in esemplare unico da Ellen G. con la tecnica di matrice dadaista consistente nell'accostamento di pezzi di carta ritagliati, poi incollati e "saldati" mediante l'innesto di interventi pittorici. In questo modo gli elementi figurativi sono frantumati, sconvolti e ricreati, divenendo solo parzialmente riconoscibili.
Tutte le opere pubblicate nella GALLERY sono papier collés di piccole e medie dimensioni. 
Sono disponibili per la vendita tutte le opere originali che non fanno parte di collezioni private o pubbliche, inoltre è possibile acquistare riproduzioni a stampa ad alta qualità su tela, alluminio o forex di tutti i lavori pubblicati di qualsiasi dimensione facendone richiesta all'artista. 
CERAMICs
Ellen G. modella a mano le sue sculture in creta a partire dall'idea di un oggetto – vaso, scatola, brocca – e poi, usando l'immaginazione, ne trasforma le caratteristiche. Dopo la prima cottura, il manufatto in terracotta è colorato con ingobbi o con smalti ceramici, risultanti da ricerche e sperimentazioni. In alcuni casi la ceramica è combinata con altre tecniche artistiche o materiali, come la carta.
Tutte le ceramiche sono esemplari unici. Le opere che non fanno parte di collezioni private sono in vendita.