PAPIER COLLéS
The works presented in the current section are papiers collés. They are created by Ellen G. as unique art pieces by using the cubist technique of paper pieces juxtaposition, combined with painting insertions. 
All the works published in the GALLERY are small and medium-sized papier collés. 
All the works that are not part of private or public collections are available for sale, moreover all the works are available for sale as Fine Art print on canvas, aluminum or forex of any size contacting the artist. 
CERAMICS
Ellen G. models her clay sculptures starting off with the idea of the object – vase, pitcher, box – and then, using her own imagination, she transforms the characteristics of it. After the first baking, the terracotta work is colored with engobe or with special polychrome enamels, resulting from research and experimentation. Sometimes she likes to combine ceramics with other techniques and materials, such as paper.
All the works that are not part of private or public collections are available for sale.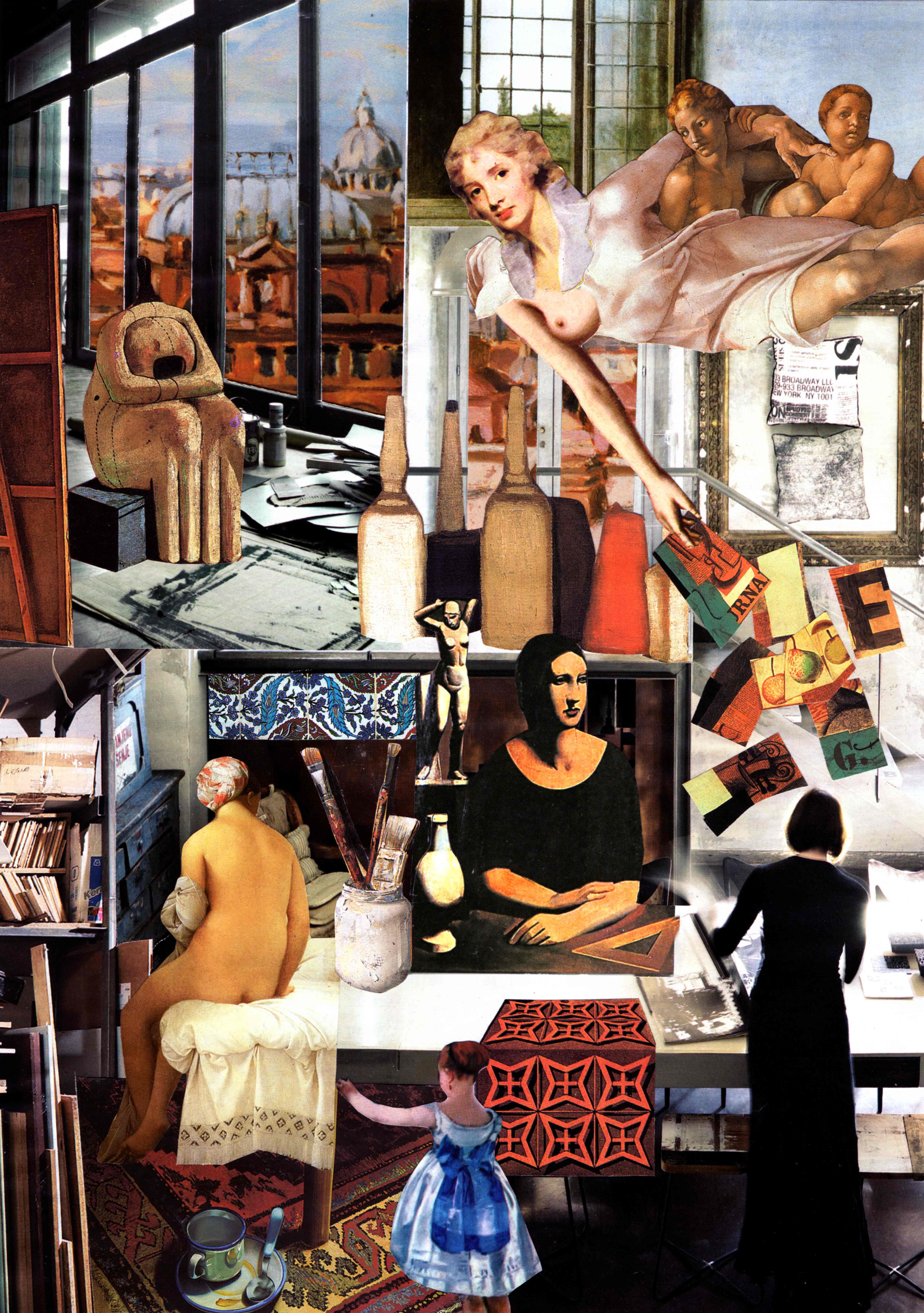 PapiEr collés
Tutte le opere di questa sezione sono papier collés eseguiti in esemplare unico da Ellen G. mediante la tecnica di matrice dadaista, consistente nell'accostamento di pezzi di carta ritagliati, poi stesi, incollati e "saldati" mediante l'innesto di interventi pittorici. In questo modo gli elementi figurativi originari sono ridotti in frammenti, decontestualizzati e ricomposti, conservando una riconoscibilità solo parziale. Si tratta generalmente di opere di medie e piccole dimensioni.
Tutte le opere pubblicate nella GALLERY sono papier collés di piccole e medie dimensioni. 
Sono disponibili per la vendita tutte le opere originali che non fanno parte di collezioni private o pubbliche, inoltre è possibile acquistare riproduzioni a stampa ad alta qualità su tela, alluminio o forex di tutti i lavori pubblicati di qualsiasi dimensione. 
CERAMICs
Ellen G. ha ereditato conoscenze e passione per l'arte del fuoco dalla madre, la storica ceramista Clara Garesio, osservando il lavoro della quale ha appreso le tecniche di modellazione dell'argilla e di dipintura della superficie con smalti ceramici e con ingobbi. La ceramica contemporanea è poi divenuto anche l'oggetto privilegiato della sua ricerca storico-artistica.
Il suo interesse artistico per la ceramica si concentra prevalentemente sulla forma e confluisce pertanto nella creazione di oggetti con funzione estetica e d'uso, come bassorilievi, contenitori e vasellame, pensati però sempre come opere scultoree, da fruire principalmente in maniera estetica. Le sue opere sono tutti esemplari unici da lei ideati ed eseguiti interamente a mano. Quelle che non fanno parte di collezioni private sono disponibili per la vendita.